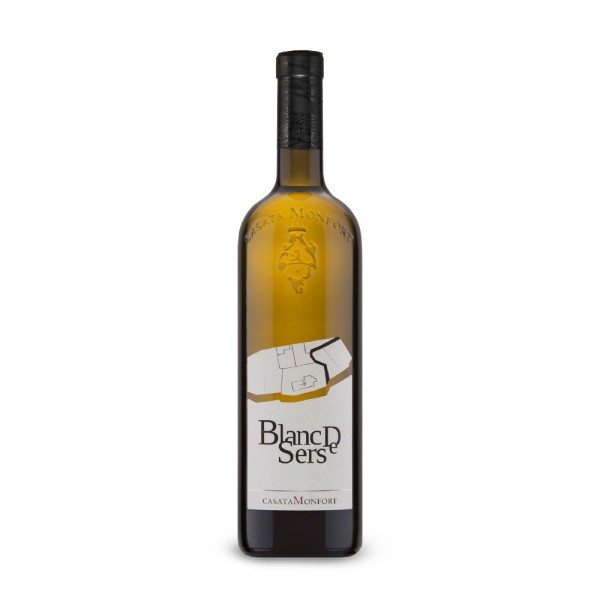 Blanc de Sers 2016 - Vineyards of the Dolomites Igt - Casata Monfort Expressions of the...
more
Product information "Blanc de Sers Dolomiti IGT"
Blanc de Sers 2016 - Vineyards of the Dolomites Igt - Casata Monfort Expressions of the Territory
The Blanc de Sers Igt Vigneti Delle Dolomiti is part of the project to recover and make wine from ancient native varieties in the Trentino area. Serso, located near Pergine Valsugana, on the right side of the Fersina stream near the Mocheni Valley, is by far the most suitable area for the production of white wines in Valsugana. Between 550 and 700 metres a.s.l., sheltered from the north winds, the area of Blanc de Sers, sloping and well ventilated, is exposed to the sun all day long.
Colour: straw yellow, tending towards golden.
Bouquet and flavour: fresh, floral, ripe citrus with a slight final hint of sage.
Food pairing: Excellent as an aperitif, it goes very well with light appetizers, freshwater and seafood dishes, soups and mushrooms.
Alcohol content: 12,50 %.
"Blanc de Sers Dolomiti IGT"
Cantine Monfort
Our land. In a magnificent land, proud as its mountains, reserved as the silence of its woods, fresh as its streams stand out in the sun its vineyards. Come and discover Trentino. Year after year, harvest after harvest, we have shaped our tradition. The cyclical work linked to the nature of the vine and the transformation of its noble product into wine, allowed us to write important pages in the history of the song-na. The attachment to our Trentino and its magnificent land, the agronomic and oenological skills of our technicians, have allowed us to achieve excellent results and awards both in Italy and abroad. They are pride for us and continue to do better and better. In the fifties, our ancestors decided to move the business from Palù di Giovo to Lavis, still a small town. Over time, the cellar grew in volume and, with the houses built around it, the only way to enlarge it was the subsoil and so we made a real vault. You will never imagine such a central space unless you see it with your eyes. A small treasure chest in the middle of the town that we have reserved for you.