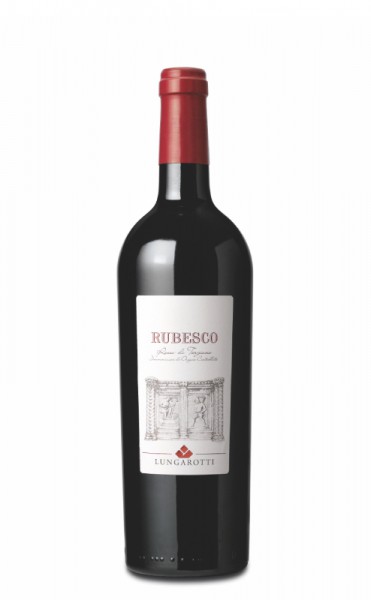 Colour: deep ruby red with light violet reflections. Bouquet: delicate and of good intensity,...
more
Product information "Rubesco Rosso di Torgiano DOC"
Colour: deep ruby red with light violet reflections. Bouquet: delicate and of good intensity, elegant complexity with hints of pepper, cinnamon and tobacco; background of red jam and violet. Taste: firm structure and excellent concentration, evolves with fresh acids, sober tannins and a good balance with a fruity aftertaste and only mineral. Alcohol: 13.50% Vol. Consumption: the wine is already noticeable with immediate consumption, the wine benefits from staying in the bottle. Serve at 16°-18°C. Coupling: barbecue with spicy sauce, Florentine steak, steak with balsamic dressing and extra virgin olive oil, roast beef with fried potatoes, stewed eel, eggplant caponata, chicken with pointed roast, slightly ripened cheeses (pecorino, parmesan), lasagna Bolognese style. Traditional, strangozzi with red onion and pillow. For its moderate body is also excellent in the preparation of sauces.
"Rubesco Rosso di Torgiano DOC"
Lungarotti
Since the '700, when family members, already farmers in the Middle Tiber Valley, perceive the potential of the Umbrian land and begin to produce wine and oil. Over time, the property became more and more consolidated and these enlightened entrepreneurs increased its production. In 2017 with the conversion of the Montefalco estate into a biological regime, the green mosaic of the Cantine Lungarotti is completed. The first Lungarotti organic wine on the Italian market makes its debut at Vinitaly. It's ILBIO, Umbria Rosso Igt 2015, and represents a significant milestone towards the eco-sustainable goals that the company has always pursued. The label shows the cadastral of the estate of the Lungarotti farm in Turrita di Montefalco, with all the main characteristics of the vineyard and grapes, taking up the ancient use of reproducing on the mapping all the information on the farm. In 2018 there was recognized correct sustainable management for all 4 indicators foreseen by the disciplinary (territory, air, vineyard, and water) after a series of verifications started about 2 years before. Lungarotti is the ninth Italian organization to achieve VIVA certification and the first in Umbria.