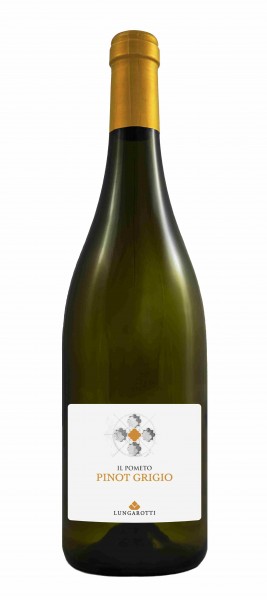 Umbria IGT Pinot Grigio Dry white wine with a nice structure, straw yellow with greenish...
more
Product information "Pinot Grigio il Pometo 2019 IGT"
Umbria IGT Pinot Grigio
Dry white wine with a nice structure, straw yellow with greenish reflections, intense bouquet with notes of broom, acacia flower and honey; it has an elegant acidulous streak, nice minerality and a long and pleasant finish.
Grapes
Pinot Grigio from vineyards trained with spurred cordon system, harvested between the end of August and the beginning of September.
Vinification
From the first-pressing must, it is coldly vinified in steel tanks and kept on fine lees until bottling.
Pairings
An excellent aperitif, it goes well with a wide variety of cuisines from different climates and cultures: from sushi to curry, to dressed salads, pasta and risotto with fish, seafood salads, marinated anchovies.
Curiosities
The decisive varietal characteristics integrated by the Umbrian habitat, with a climate typical of central Italy, give this wine a full and well-balanced character. It was the first Pinot Grigio to be cultivated in Umbria.
The stylized motif on the label is inspired to the 14th century quadrilobate tiles which decorate the façade of Perugia's Cathedral: a formal balance that interprets history, elegance and modernity.
"Pinot Grigio il Pometo 2019 IGT"
Lungarotti
Since the '700, when family members, already farmers in the Middle Tiber Valley, perceive the potential of the Umbrian land and begin to produce wine and oil. Over time, the property became more and more consolidated and these enlightened entrepreneurs increased its production. In 2017 with the conversion of the Montefalco estate into a biological regime, the green mosaic of the Cantine Lungarotti is completed. The first Lungarotti organic wine on the Italian market makes its debut at Vinitaly. It's ILBIO, Umbria Rosso Igt 2015, and represents a significant milestone towards the eco-sustainable goals that the company has always pursued. The label shows the cadastral of the estate of the Lungarotti farm in Turrita di Montefalco, with all the main characteristics of the vineyard and grapes, taking up the ancient use of reproducing on the mapping all the information on the farm. In 2018 there was recognized correct sustainable management for all 4 indicators foreseen by the disciplinary (territory, air, vineyard, and water) after a series of verifications started about 2 years before. Lungarotti is the ninth Italian organization to achieve VIVA certification and the first in Umbria.