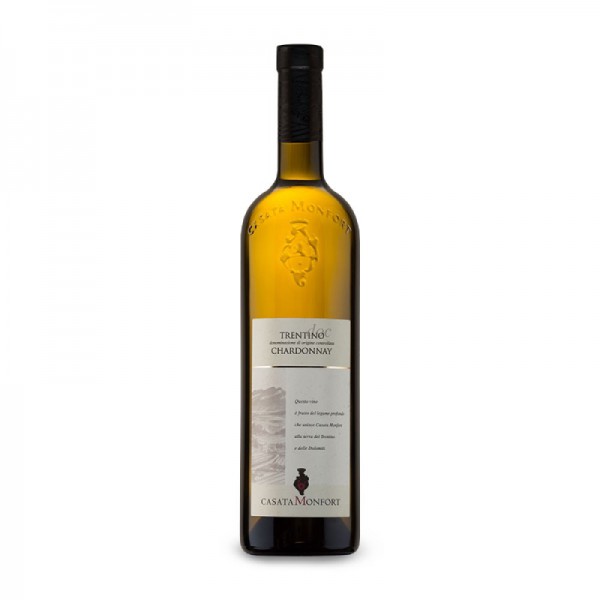 The quality of Chardonnay comes mainly from the favourable adaptation of this variety in...
more
Product information "Trentino Chardonnay DOC"
The quality of Chardonnay comes mainly from the favourable adaptation of this variety in Trentino, where it has found a habitat very similar to its homeland of origin. The grapes used by Cantine Monfort come from vineyards located on the hill of Trento and on the slopes of the Valle di Cembra.
Colour: pale straw yellow with greenish hues.
Bouquet: fine, pleasantly fruity with notes of tropical fruit.
Taste: dry, well-structured, harmonious.
Food Match: Appetizers, vegetables and fish. Excellent aperitif. Elegant wine, consumed young allows you to fully appreciate the scent enhanced by the acidity.
Alcohol content: 13,00 %.
"Trentino Chardonnay DOC"
Cantine Monfort
Our land. In a magnificent land, proud as its mountains, reserved as the silence of its woods, fresh as its streams stand out in the sun its vineyards. Come and discover Trentino. Year after year, harvest after harvest, we have shaped our tradition. The cyclical work linked to the nature of the vine and the transformation of its noble product into wine, allowed us to write important pages in the history of the song-na. The attachment to our Trentino and its magnificent land, the agronomic and oenological skills of our technicians, have allowed us to achieve excellent results and awards both in Italy and abroad. They are pride for us and continue to do better and better. In the fifties, our ancestors decided to move the business from Palù di Giovo to Lavis, still a small town. Over time, the cellar grew in volume and, with the houses built around it, the only way to enlarge it was the subsoil and so we made a real vault. You will never imagine such a central space unless you see it with your eyes. A small treasure chest in the middle of the town that we have reserved for you.