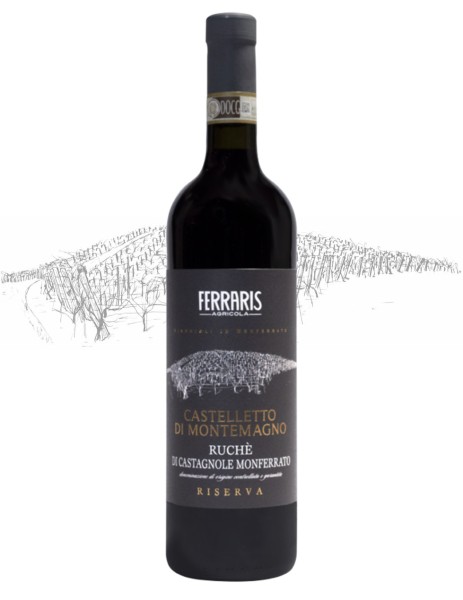 Produced from pure Ruchè grapes, coming from a very particular vineyard characterized by...
more
Product information "Castelletto Ruche' Riserva DOCG"
Produced from pure Ruchè grapes, coming from a very particular vineyard characterized by calcareous marl with a high clay component that gives the wine great structure, while maintaining finesse and elegance. The care of the vines and the low yields per hectare ensure the highest quality. In its luminous ruby dress, the olfactory texture is elegant and complex. Deep and intense aromas of rose petals and fruity sensations of cherry jam, accompanied by a pleasant spiciness. On the palate it is long, persistent and with a pleasant freshness. Fresh oak tones emerge perfectly blended in the background. Perfect match with traditional Piedmontese first courses.
Variety: Ruchè 100%
Production area: Montemagno, Asti
Age of the vineyards: 10 yaers
Alcoholic fermentation:: 25 days at controlled temperatures in rotofermenters
Aging: 12 months in tonneaux
Refinement: 12 months in bottles
Alcohol content: 15%
Food pairing: truffles, first dishes, red meat, medium-aged cheeses
Serving temperature:: 18-20° C
"Castelletto Ruche' Riserva DOCG"
Ferraris Agricola
The philosophy that has always accompanied my work is to be able to combine respect for nature, tradition and technology in order to always obtain the best possible result, investing time (and not only) in the search for the best"
The history of the Ferraris Agricola winery began when great-grandfather Luigi emigrated to America and found gold during the "Golden rush" in California. Thanks to his income, great-grandmother Teresa, who had remained in Italy, had the opportunity to make his dreams come true. In 1921 she bought the house, in Castagnole Monferrato, in Via al Castello, home of the first Ferraris winery. Two years later, grandfather Martino bought the "Casot", a rural farmhouse in the middle of a 40,000 square meter plot where today one of the most representative vineyards of the company stands. However, the production of wine remained a passion and never a job. Thus, for decades, the grapes were given to the town's Social Cooperative.