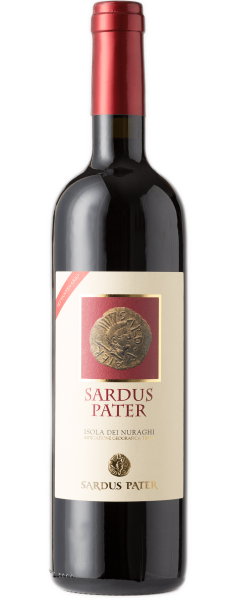 This product will be delivered to our warehouse soon. Leave your email address here and we'll be glad to inform you when it's available again.
Prices incl. VAT
Delivery time approx 1-5 working days depending on your destination.
This wine was born from the idea of celebrating the seventieth anniversary of Cantine Sardus...
more
Product information "Sardus Pater 70 IGT Carignano"
This wine was born from the idea of celebrating the seventieth anniversary of Cantine Sardus Pater (1949-2019), and to do so we decided to create the first blend of our range, a wine derived from all the red grape varieties grown in Sulcis. The base remains Carignano, the main grape variety of our territory, but it is enriched by Cabernet Sauvignon, Monica, Cannonau and Bovale.
The color is ruby red. The nose has a fine and complex bouquet, with aromas of jammy red berries, notes of Mediterranean scrub, balsamic and spicy nuances. The palate is warm and ample, with ripe tannins and pleasing crispness. The finish is long and persistent.
GRAPEVINE
60% Carignano, 30% Cabernet Sauvignon; 10% other indigenous grapes
AREA OF PRODUCTION
Lower Sulcis
Awards
2016
MONDIAL DES VINS EXTREMES: MEDAILLE D'OR
DECANTER WORLD WINE AWARDS: 90 POINTS
5 STARS WINES VINITALY: 92 POINTS
MUNDUS WINES: GOLD MEDAL
BERLINER WINE TROPHY: GOLD MEDAL
"Sardus Pater 70 IGT Carignano"
Cantine Sardus Pater
Sardus Pater Winery is on Sant'Antioco Island, in the South Western part of Sardinia. Established in 1949 as a limited liability cooperative company, activities have started in 1955. Through the years wine production has been enhanced, focusing especially on Carignano grapes variety. Grapes, supplied by 200 associates, come from a 300 hectares area planted with vines. There are mainly Carignano vineyards and the most ancient ones are located on Sant'Antioco Island. They date back to at least 50 years, planted on sandy soil with low yields per hectare, producing top quality grapes. Out of these vineyards, the Winery produces its most refined red wines. Since 1994 grape harvest the winery starts producing also Vermentino. There is also a limited but very well cared for production of Moscato and Nasco, cultivated in ungrafted vine-yards, and Monica and Cannonau. Every bottle produced comes from an accurate selection of grapes and a careful wine-making, to guarantee customers have a top-quality wine. The enological management of the company is up to the enologist Francesco Bertagna with the enological consultancy by Riccardo Cotarella.