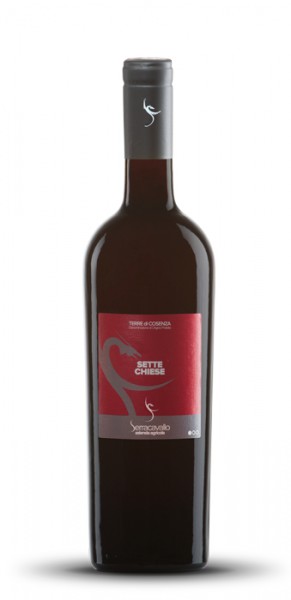 First wine produced by the company. Until the 50s the company was proud that in the early...
more
Product information "Sette Chiese Rosso"
First wine produced by the company. Until the 50s the company was proud that in the early twentieth century, all the priests of the area to say mass wanted the wine of Serracavallo, in tribute to this fact, since Bisignano has seven districts, each with a church, the wine was called Seven Churches.
Red-purple color. Scent fresh tobacco leaves and currants. Tannins palate well fused and freshness in balance. Ideal serving temperature 16 °.
Food pairings roasted or grilled pork, cut tuna.
"Sette Chiese Rosso"
Serracavallo
The Serracavallo farm is located in the municipality of Bisignano on the hills overlooking the valley of Crati, 35 km from Cosenza. It covers 55 hectares, 30 of which are vineyards and 10 olive groves. In 1995 the owner, Demetrio Stancati, started a work of renewal of the vineyards, starting a careful clonal selection of the autochthonous vines present in the company since ever as the sweet hammer and the sheep and has planted new international varieties such as cabernet-sauvignon and chardonnay. The location at 600 m.a.s.l., the wide day-night temperature range, the granite sandy nature of the soil, the southwest exposure of the vineyards, a new modern winery equipped with the most modern technologies and a barrique cellar for aging wines guarantee a quality product. Only own grapes are processed in the company with a production of about 150,000 bottles. The company's philosophy is to use blends of native and international grape varieties in the base wines, while, increasing in importance in the range, the percentage of international grape varieties decreases until they disappear completely. In line with all the investments made and the experimentation on native vines, since the 2012 harvest Serracavallo has become part of the DOP Terre di Cosenza.