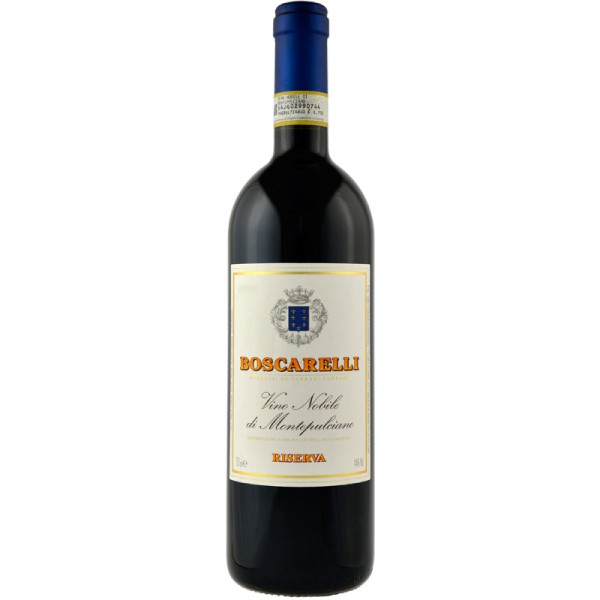 Designation of origin and guaranteed This Reserve has been revived since the 2010 vintage...
more
Product information "Vino Nobile di Montepulciano Riserva DOCG"
Designation of origin and guaranteed
This Reserve has been revived since the 2010 vintage almost 20 years after its last edition in 1992. We have taken that break because in the last 26 years we have progressively reselected and replanted our historic vineyards; we focused on clonal selections, on the different expressiveness of Sangiovese in relation to pedoclimatic variations and on the possibility of combining the characteristics of Sangiovese with other international varieties. In 2010 instead, we found in the grapes of the first replanting of autochthonous vines an increased complexity and structure, which convinced us to reproduce the Vino Nobile Reserve only from native grapes, just like in the 70s and 80s.
"Vino Nobile di Montepulciano Riserva DOCG"
Poderi Boscarelli
The story began in 1962 with founder Egidio Corradi's dream of producing a noble wine that exalts the aromas and flavors of his native land while imparting the elegance he loved.
Born into an old Poliziana family in the Montepulciano region of the Siena countryside, he later graduated with a degree in economics and business. He spent most of his life working as an international broker in Genoa and Milan.
But his infinite passion for wine and deep knowledge of his home region induced him to buy two semi-abandoned small farms in Cervognano of Montepulciano, a stunning corner of old Etruscan Tuscany. The ancient soils had long been cultivated in the traditional way with different annual crops and small vineyards.
Egidio's dream and vision were embraced and invigorated by his daughter Paola and her husband Ippolito De Ferrari. Driven by their strong determination and dedication, they started Poderi Boscarelli in the '60s. The development that followed brought renewed life to the age-old farming estate as Paola and Ippolito planted their first specialized vineyards at a density of 3,500 plants per hectare. They also built the first winery by renovating and adapting old stables.
The original spirit of the estate has now passed to the third generation of the family. Each day Luca and Nicolò De Ferrari, sons of Paola and Ippolito, bring that same passion to wine production as they work to infuse each bottle with the aromas and flavors that Grandpa Egidio loved and searched for. Luca and Nicolò reselect and replant vineyards that continue to express the scents and range of characteristics of the incredible land that nurtures them.
Such intense attention to cultivation practices and gradual replanting starting in the late '80s resulted in an average vineyard density of 6,000 to 7,000 plants per hectare. Each plant yields about 1.2 kg of grapes.
In 2006 we also planted 2 hectares of Merlot on soils owned by the municipality of Cortona, where Merlot in purity is produced.