Melegatti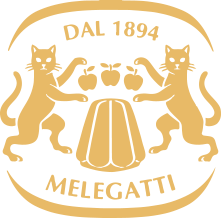 Quality and tradition have always been the values that guide the company's choices. Founded by Domenico Melegatti in 1894, Melegatti S.p.A. has grown over time, becoming one of the leading international companies in the confectionery sector....
October 14, 1894, Domenico Melegatti receives the Certificate of Industrial Privation from the Ministry of Agriculture, Industry and Commerce of the Kingdom of Italy for having invented the name, shape and recipe of Pandoro.
The dessert immediately had a large group of imitators. Hence the famous "challenge of 1000 lire": Domenico Melegatti invited the pastry chefs who made a cake similar to his to spread the true recipe of Pandoro, awarded the sum of 1000 lire. No pastry chef showed up.
The attention that Melegatti has always paid to the quality of the ingredients linked to the craftsmanship, is reflected in the most attentive consumers, thus giving space to creativity and offering a wide range of sweets, from the traditional anniversary to the most innovative, suitable for every occasion.
Melegatti does not use Artificial Flavours but only fresh Italian products.