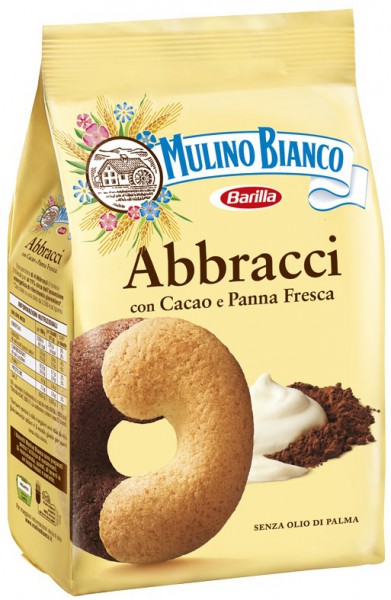 Product number:

IT01329

Best before:

28-07-2020
Abbracci are the result of the union of an exquisite and delicate shortcrust pastry with cream,...
more
Product information "Abbracci - 350 gr."
Abbracci are the result of the union of an exquisite and delicate shortcrust pastry with cream, made only of fresh Italian milk, with the unmistakable gluttony of cocoa. The unique pleasure of two cookies together!
Ingredients: wheat flour, sugar, butter, sunflower oil, fresh eggs, cocoa 2.4%, fresh pasteurized cream 2.1%, skimmed milk powder, honey, salt, raising agents (sodium hydrogen carbonate, ammonium hydrogen carbonate), vanilla flavor.
May contain traces of peanuts, nuts, sesame and soya.
The ingredients highlighted may cause reactions in allergic or intolerant persons.
WITHOUT:
Palm oil, colouring additives, preservative additives, hydrogenated fats, GMO ingredients
"Abbracci - 350 gr."
Mulino Bianco
Mulino Bianco is a brand of baked goods, snacks, and biscuits owned by Barilla. The brand was introduced to the market in 1975, and already towards the end of the seventies, it represents the most sold bakery brand in Italy. The Mulino Bianco brand was created to distinguish the production of Barilla, historically linked to pasta.
Among its historical products, we remember the tegolino, the tart and the saccottino. In the packaging of some Mulino Bianco products over the years there were included some gifts, mainly small pack toys, contained in openable "drawer" boxes. Seven of these objects are exhibited at the Barilla Historical Museum.
The flavor of the first Mulino Bianco biscuits is due to the experience of the able English biscuit maker George Maxwell, a true master pastry chef who has been working for months on the experimental line, secretly prepared in an area of the pasta factory, to elaborate dozens of recipes with rigorously natural ingredients. without any kind of additive or preservative, in-spired by the English tradition. The names of the new products, drawn from an ancient vocabulary, evoke past times and peasant atmospheres and soon become successful names destined to lead, today unbeaten, the sales rankings of Mulino Bianco biscuits.