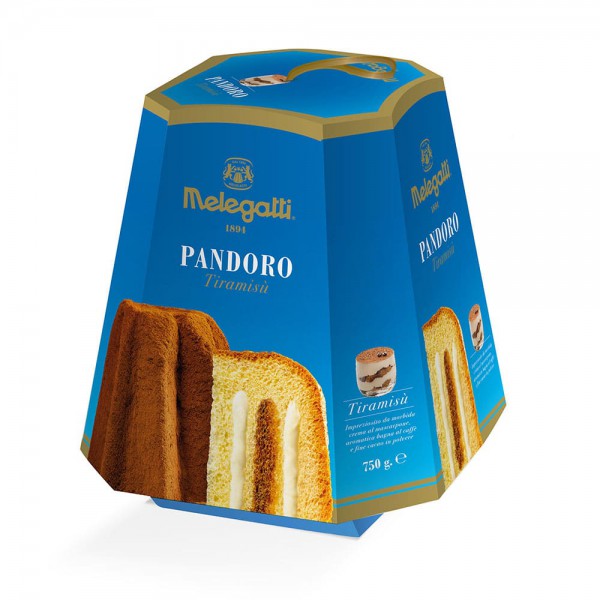 This product will be delivered to our warehouse soon. Leave your email address here and we'll be glad to inform you when it's available again.
Prices incl. VAT
Delivery time approx 1-5 working days depending on your destination.
This recipe contains two of the great Veneto excellences in a single creation: Pandoro and...
more
Product information "Traditional Pandoro with Tiramisù filling - 750 gr"
This recipe contains two of the great Veneto excellences in a single creation: Pandoro and Tiramisù. A unique taste to give Christmas an extra touch of delicacies.
Ingredients: wheat flour, fresh eggs, butter, sugar, mascarpone cream 13% (sugar, glucose syrup, water, mascarpone 4%, butter, skimmed milk powder, alcohol, gelling agent: pectin; colouring agent: E171; preservative: potassium sorbate; flavourings), coffee wetting 10. 5% (sugar, water, coffee infusion 10%, freeze-dried coffee 1.5%, alcohol), natural yeast 4% (wheat flour, water, yeast), glucose-fructose syrup, emulsifier: monoglycerides and diglycerides of fatty acids, skimmed milk powder, salt, cocoa butter, flavourings. Contains a bag of cocoa powder 2.6%.
May contain nuts and soya.
Pandoro is a Veronese tradition inspired Christmas cake.
For centuries, women would gather in the kitchens of the Venetian courts on the night of Christmas Eve, to make a dough of flour, milk and yeast that would be baked the morning after and consumed between Christmas and the New Year. In 1894, Domenico Melegatti got the intuition to add butter and eggs to the dough and to add many more hours to the rising process, so that the final product would be much softer than the traditional one. Finally, he gave the cake the classic truncated cone shape with the eight-pointed star section that we know today. The legend goes that while tasting the first slice of this new cake, a shop boy exclaimed in amazement: "è davvero un pan de oro!" (this is like golden bread!).
So, Pandoro it was.
Even today, Melegatti products are made using Melegatti mother yeast, worked for 24 hours before use. Selected wheat, mainly of North-American origin with superior organoleptic characteristics, together with the use of fresh eggs and milk cream butter with no added oils, guarantee for a final product of the highest quality. The sugar and the other ingredients are added little by little with breaks in the middle called "rest periods", which allow the mother yeast to create a rich variety of flavours, aromas and structures. The final leavening of the dough takes place in an environment with controlled temperature and humidity, and it is constantly monitored by Melegatti confectioners. The freshly baked product is subjected to a rapid cooling system, which allows for an equally rapid packaging process. This is how the sweet Pandoro's fragrance reaches the Italian Christmas tables like if it is just been taken out of the oven.
"Traditional Pandoro with Tiramisù filling - 750 gr"
Melegatti
Quality and tradition have always been the values that guide the company's choices. Founded by Domenico Melegatti in 1894, Melegatti S.p.A. has grown over time, becoming one of the leading international companies in the confectionery sector....
October 14, 1894, Domenico Melegatti receives the Certificate of Industrial Privation from the Ministry of Agriculture, Industry and Commerce of the Kingdom of Italy for having invented the name, shape and recipe of Pandoro.
The dessert immediately had a large group of imitators. Hence the famous "challenge of 1000 lire": Domenico Melegatti invited the pastry chefs who made a cake similar to his to spread the true recipe of Pandoro, awarded the sum of 1000 lire. No pastry chef showed up.
The attention that Melegatti has always paid to the quality of the ingredients linked to the craftsmanship, is reflected in the most attentive consumers, thus giving space to creativity and offering a wide range of sweets, from the traditional anniversary to the most innovative, suitable for every occasion.
Melegatti does not use Artificial Flavours but only fresh Italian products.