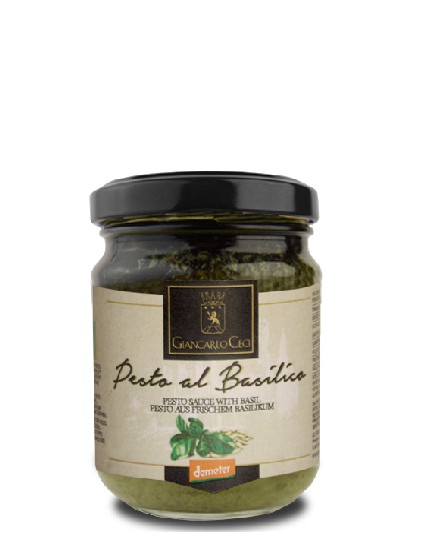 BEST BEFORE 31.10.21 A classic of Italian cuisine: basil pesto. To give a peculiar tone of...
more
Product information "Organic Basil Pesto - 130 gr."
BEST BEFORE 31.10.21
A classic of Italian cuisine: basil pesto. To give a peculiar tone of freshness to this pesto is the use of organic basil Giancarlo Ceci from Apulia, immediately processed after picking. The extra virgin olive oil gives the pesto a typical Mediterranean flavour. From organic and biodynamic farming. DEMETER certification.
Ingredients: extra virgin olive oil* 46.2%, basil* 43.2%, cheese** (milk, rennet, salt) 5.9%, pine nuts** 3.0%, white wine vinegar* 1.5%, salt 0.2%. Without added additives. May contain traces of celery*.
* From organic and biodynamic farming
** From organic farming
"Organic Basil Pesto - 130 gr."
Giancarlo Ceci
Deep roots and a great family passion since 1819 when Consalvo Ceci (seven generations before Giancarlo) acquired the estate. It would be enough to tell the story of this company to realize the dedication and care that the Ceci family, for almost two hundred years, dedicated to the land and its fruits. The estate is located in a strategic position, 250 meters above sea level, between Andria and Castel del Monte, and 20 kilometers from the sea in the pre-Murgian hilly area that at that time (early nineteenth century) was intended for pastureland. In 1988, after graduating in Agriculture, Giancarlo founded Agrinatura with the aim of continuing the family farming traditions in full respect of the environment.
In December 2011 the company obtained a prestigious award, the Demeter biodynamic certification. A fundamental starting point to look to the future of agriculture, without losing sight of the past and the long journey that has accompanied the history of this family over the centuries. Biodynamic because if you want to get in tune with nature and get the best out of it through the fruits, there is no other way than the care and full respect of the land. The mission that the company proposes itself through the use of biodynamic farming systems is intended to be a strong signal to be passed on to the new generations so that they can acquire greater awareness of the importance of natural resources and the earth.