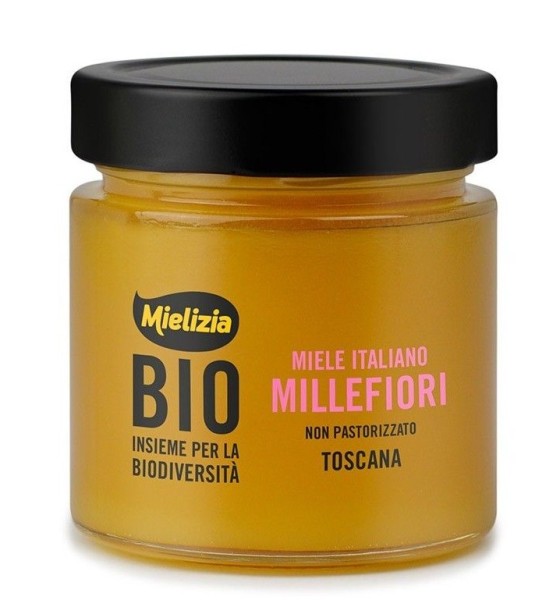 Millefiori Organic Honey Jar 300g Millefiori honey is a pure expression of the territory in...
more
Product information "Miele/Honey BIO Millefiori gr 300"
Millefiori Organic Honey Jar 300g
Millefiori honey is a pure expression of the territory in which it is collected, restoring its scents and flavors. Its characterization is never homogeneous and varies depending on the area of production and the period in which it is collected. It is generally crystallized, with a color tending to amber, which can vary from opaque white to golden with orange nuances, to brilliant yellow, up to hazelnut color. The aroma is enveloping and its smell ranges from floral notes to hints of candied fruit. It has a sweet, fruity and floral taste; to the palate its aromatic scale is extremely wide and varied. It is produced during spring and summer, especially on the hills of the Apennines.
The line MIELIZIA BIO - INSIEME PER LA BIODIVERSITÀ is born from the long experience that the beekeepers of Conapi have with respect to the techniques of organic beekeeping. The hives of our beekeepers are located far from sources of pollution and the bees are raised in total respect of their biorhythms, treated with natural systems to defend them from disease.
Mielizia honeys are not pasteurized: they are produced at a temperature never higher than 40°, the temperature of the hive, in order to keep intact flavor, aroma and nutrients.
"Miele/Honey BIO Millefiori gr 300"
Mielizia
Combining the Italian words for honey (miele) and delight (delizia), Mielizia is CONAPI reference brand. CONAPI is a national cooperative of beekepers.
As a major producers' cooperative, we take great pride in our work safeguarding the wellbeing of bees and promoting our beekeepers' products. We represent the only complete honey supply chain in Italy, and with more than 100,000 hives we are also the largest producer of organic honey in Europe. Our business operations and approach to the national and international markets are based on direct relationships, bonds between people, enthusiasm and shared choices. At Conapi we are committed to cultivating and multiplying biodiversity.