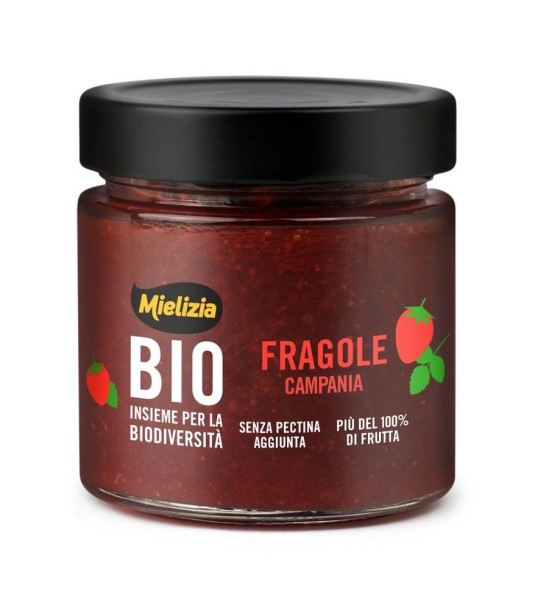 Organic Strawberry-Honey Compote 250g Jar Mielizia BIO compotes are obtained without pectin...
more
Product information "Composta BIO Fragole+Miele gr 250"
Organic Strawberry-Honey Compote 250g Jar
Mielizia BIO compotes are obtained without pectin and sweetened only with grape juice and honey from our beekeepers.
This organic compote of strawberries from Campania is made using more than 100 grams of fruit per 100 grams of finished product. The concentration is obtained without the addition of thickeners, and the delicate processing technique preserves the natural aromas of the fruit.
The line MIELIZIA BIO - INSIEME PER LA BIODIVERSITÀ is born from the long experience that our beekeeping partners have with respect to the techniques of organic beekeeping. The hives are located far from sources of pollution and the bees are raised in total respect of their biorhythms, treated with natural systems to defend them from disease. Our honeys and the other gifts of the bees are the protagonists of all the products of the line. By choosing them, you, with us, can contribute to the preservation of bees and the environment: together for biodiversity.
"Composta BIO Fragole+Miele gr 250"
Mielizia
Combining the Italian words for honey (miele) and delight (delizia), Mielizia is CONAPI reference brand. CONAPI is a national cooperative of beekepers.
As a major producers' cooperative, we take great pride in our work safeguarding the wellbeing of bees and promoting our beekeepers' products. We represent the only complete honey supply chain in Italy, and with more than 100,000 hives we are also the largest producer of organic honey in Europe. Our business operations and approach to the national and international markets are based on direct relationships, bonds between people, enthusiasm and shared choices. At Conapi we are committed to cultivating and multiplying biodiversity.