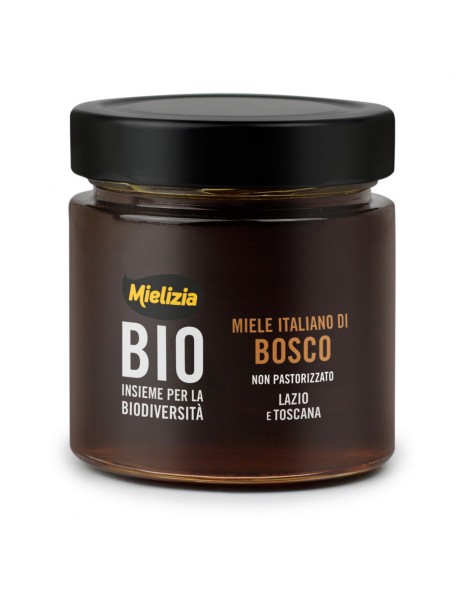 Organic Forest Honey Jar 300gr Liquid and slightly viscous honey, amber in color, very intense...
more
Product information "Miele/Honey BIO Bosco gr 300"
Organic Forest Honey Jar 300gr
Liquid and slightly viscous honey, amber in color, very intense and dark, with various shades of intensity and slight nuances ranging from red to brown. Forest honey has an intense, vegetal and fruity scent reminiscent of cooked fruit, the scent of dried apricots, caramel and fig jam. The flavor is reminiscent of carob, rhubarb and licorice stick. It is not very sweet and has a silky and velvety consistency, with a good persistence. It is also called "honeydew honey" and it is the only honey that does not derive from the nectar of flowers, but from honeydew, that is the sugary secretion emitted by insects such as metcalfa pruinosa or other homopterous rhynchopters that suck the sap of trees, absorbing the nitrogenous substances. Our woodland honey is collected at the end of summer, in the woodland areas of various regions, from Northern to Southern Italy: Piedmont, Emilia Romagna and Abruzzo.
The line MIELIZIA BIO - INSIEME PER LA BIODIVERSITÀ was born from the long experience that the beekeepers of Conapi have with respect to the techniques of organic beekeeping. The hives of our beekeepers are located far from sources of pollution and the bees are raised in total respect of their biorhythms, treated with natural systems to defend them from disease.
Mielizia honeys are not pasteurized: they are produced at a temperature never higher than 40°, the temperature of the hive, in order to keep intact flavor, aroma and nutrients.
"Miele/Honey BIO Bosco gr 300"
Mielizia
Combining the Italian words for honey (miele) and delight (delizia), Mielizia is CONAPI reference brand. CONAPI is a national cooperative of beekepers.
As a major producers' cooperative, we take great pride in our work safeguarding the wellbeing of bees and promoting our beekeepers' products. We represent the only complete honey supply chain in Italy, and with more than 100,000 hives we are also the largest producer of organic honey in Europe. Our business operations and approach to the national and international markets are based on direct relationships, bonds between people, enthusiasm and shared choices. At Conapi we are committed to cultivating and multiplying biodiversity.